TUBE -Amplifier, -Mixer, -Bass-EQ
Discrete VCA_s
Line-Level-Input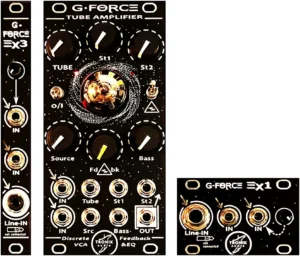 Intention : The consistent goal was to build one of the best sounding tube amplifier modules. In addition to the tube, G-FORCE also has discrete transistor VCAs.
G-Force is a fully analog discrete tube module for Eurorack music synthesizers, aiming to be one of the best sounding tube modules on the market.
G-Force works as a saturation module, classic voltage-controlled amplifier optimized for adjustments in the bass range, as a tube compressor and, if necessary, as a distortion unit.
G-Force uses a dual triode vacuum tube and 2 discrete (transistor) VCA circuits as active elements.
Discrete transistor circuits are always temperature-sensitive, thereby constructing minimal variation in touch response. Vacuum tubes are somewhat sluggish and also very temperature dependent. Depending on all control parameters, G-Force can add more warmth and volume to the sound.
Conclusion: This amp LIVES and has its own groove and character!
Gforce always processes the full input material because the two transistor VCAs are only at the end of the signal chain. This exploits the full potential of the double triode tube. The feedback path can increase the gain many times over. Depending on the EQ setting, the feedback sound ranges from harsh distortion to self-oscillation.
There will be optional passive expanders for Gforce, one for 1U height and one for 3U height.
With the help of the expanders you get 3 additional inputs: a normal input, a saturation input with additional slight amplification and a line-level input for external synthesizers, studio or hi-fi devices and the like. The expanders do not require any additional power supply, they are only powered by the G-Force main module.
As is usual with tube units, tonal qualities and subtleties vary slightly between units. This is normal and emphasizes the uniqueness of each module.
G-Force can be used with the following tubes:
ECC83 (Original ECC83S), 12AX7, 7025, ECC803, 6057, 5751, 6L13, B339, CV492, M8137, CV4004
! More tube types can also work, just write us an email!
Note: When using the line-level inputs, the level of the other inputs is attenuated because the expanders are passive and there are impedance differences between the line-level and the Eurorack inputs.
• 1  Dual Triode Vacuum Tube ( type: ECC83 or 12AX7 ….. also possible: ECC803 / 7025 / 6057 / 5757 / 6L13 / B339 / CV492 / CV4004 / M8137 )
• More other tube types may possible , write us an email for this !
• 2 Eurorack-Inputs (Mono) on the module
• 3 addtiononal inputs on the expanders
• 2 discrete Transistor VCA-Channels ( bipolar VCAs as an offset variant , important for compression and ducking )
• 3 signal ways :
– Tube-way
– Source-way
– Feedback-way
• On/Off-Switch to extend the lifetime of the tube and to protect the power bus
•Feedback loop including limiter, can be switched on and off
•AC coupled inputs
•RC low-pass smoothed
CV inputs to minimize click noise from square CV sequences
•Widely varying degree of saturation
•Feedback resonance waveform highly dependent on Bass EQ parameter
•Eurorack inputs 268 kOhm against GND /
Line level inputs 210 kOhm against GND /
Saturation inputs 230-480 kOhm against GND
• Eurorack synth compatible
• 12HP
• current: +175mA / -18mA
• Reverse power protection
• CV accept -11V to 0V to +11V
Prices :  
G-Force  : 289 €
Expander : 10 – 46 €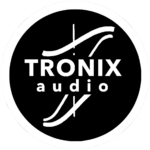 © Copyright  2021 TRONIX-AUDIO Mario Jenzsch